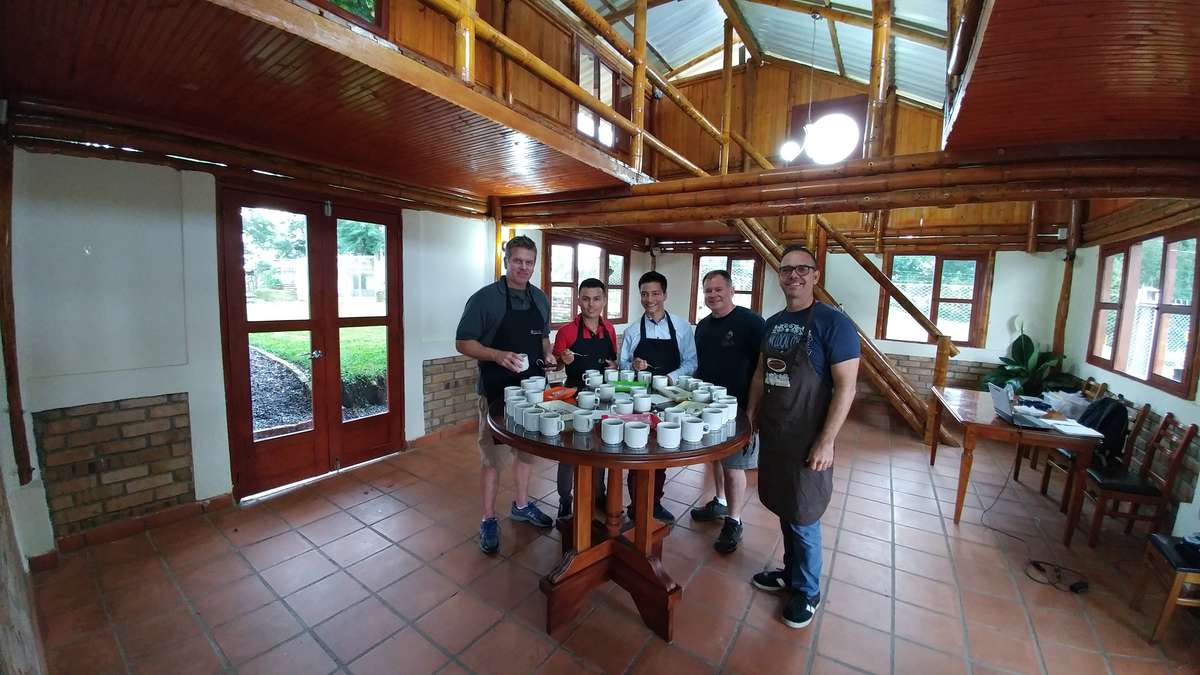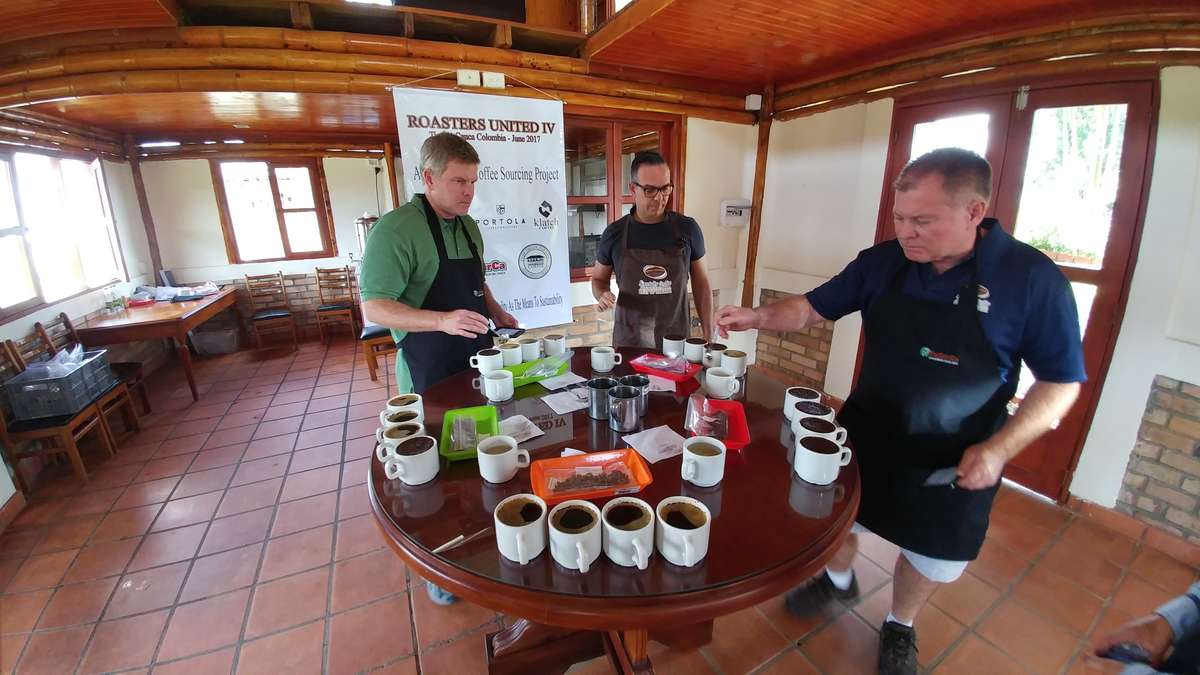 In our fourth year, Roasters United has grown from an experiment in coffee sourcing to changing the lives of farmers while finding kick ass coffee for our Klatchaholics. For those not familiar, Roasters United was created by three Roasters of the Year: Klatch, Birdrock, and Portola. Our goal was to not only find the best coffee beans but also reward coffee growers with fair compensation, bonuses, and cash prizes to be used for farm sustainability. Our price to the farmers this year was double the 'C' or commodity market for those scoring at least 85 points and much more for higher scoring micro lots. Plus, the top 3 Micro Lot winners got to share $5.6 million pesos to be used for farm equipment and sustainability.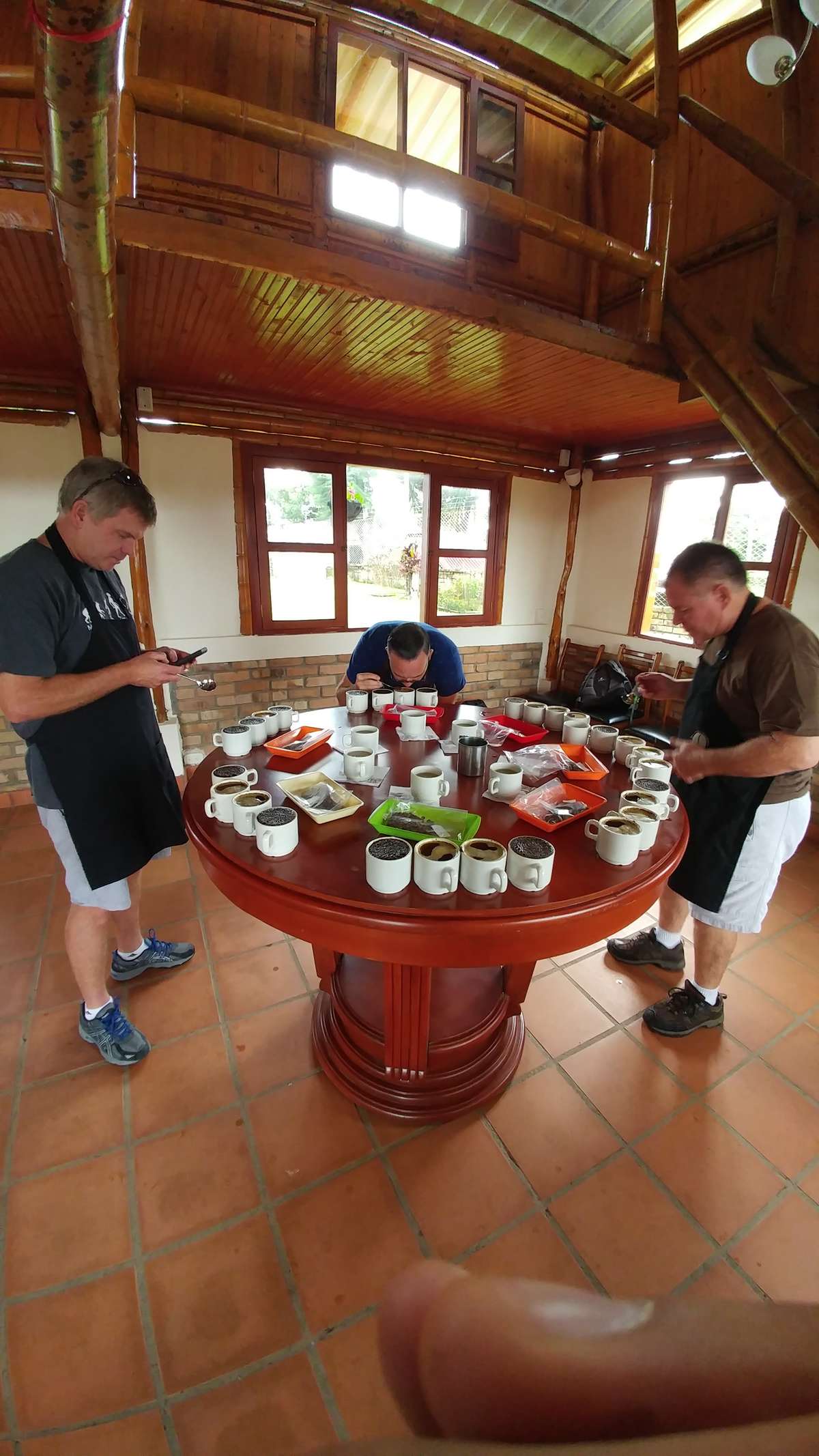 A red eye flight Sunday night and then another Monday to Popayan, we finally arrived and started cupping on Tuesday in Timbio Colombia with our partners at Clearpath and Cosurco. We cupped over 100 coffees all day Tuesday and Wednesday, leading to a final top 11 (just could not keep it at 10) to cup on Thursday along with experimental varieties and processing. In the end we congratulated the top three winning farmers:
1st Place
Farmer: Milton Samboni
Farm: Guandinosa
Variety: Caturra.
Region: Bruselas Huila



2nd Place
Farmer: Angelmiro Llantén
Variety: Castillo y Colombia
Region: Cauca

3rd Place
Farmer: Aurelio Ortega
Variety: 100% Organic Colombia
Region: Puente Tierra Cauca
All three were great and will arrive by the end of summer, along with our competition blend of winning coffees. While there were many great coffees we were unanimous in our ranking of the top three. Unfortunately, the award presentation was later Thursday and because Milton was in Huila (about 8 hours away) he was unable to attend the ceremony. But we were able to reach him by Skype to give our congrats and present his award live. He previously entered and remembered myself, Chuck and Jeff from previous years and was humbled and honored to win first place. The winning variety was a Caturra of which I am a longtime fan. Many farmers have had to stop growing Caturra and switch to more disease resistant Castillo y Colombia varieties but Milton persevered and was rewarded for his determination. He said award will be displayed proudly in his home and the money will help him greatly at his farm.
Second place winner Angelmiro Llantén attended and was delighted to be honored. The coffee was from Cauca and milled nearby. This bean was super clean, bright, and sweet with candied lemon flavors. I cannot wait for this to arrive.
Third place winner Aurelio Ortega was the best Organic coffee from Cauca and the Cosurco mill. While the farm was in Cauca where we hosted the event, the farm itself was about 4 hours away and in a very dangerous area. We were told the area is controlled by FARC. Rebel group FARC, officially called the Revolutionary Forces of Colombia – People's Army (FARC-EP), is Colombia's oldest and by far largest guerrilla organization. For those not following, more than 220,000 people have died and 5 million have been internally displaced due to the Colombian conflict since the FARC's Marxist-inspired founding in 1964. The militant rebel group has been involved in drug trafficking, kidnapping and other illicit activity to fund its insurgency. According to Aurelio most farmers around him grow the coca used to make cocaine. For this reason, he was extremely happy with his share of the 5.6-million-peso prize for farm improvement.
And while the event finished, the logistics of putting the coffee together and bringing to the US will take a couple months. Look for all these coffees and the kick-ass competition blend. Until then we may still have a few bags from our
previous RU3 available
.
– Mike